What Has Sarah Already Done?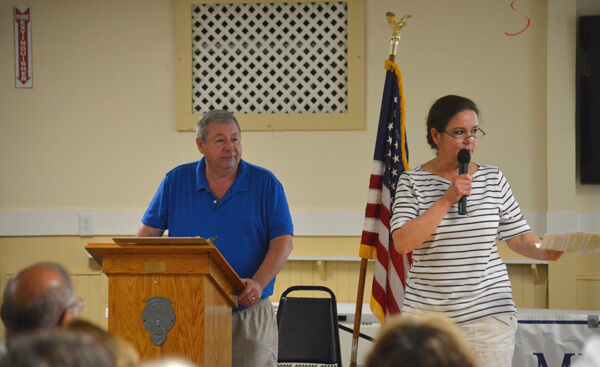 Lots...
Her Proven Ability to Get Things Done: In her 20 years as an elected official, Sarah has delivered on every single one of the promises she made to voters. Sarah knows how to reach across the aisle, get to agreement, form effective teams and partnerships, and actually get real things done for her constituents.
Our Finances: As an elected official, Sarah has a 20-year record of success in not only "holding the line" on taxes through smart growth, land preservation, etc., but also in actually saving residents money on the bills they pay every month while working to maintain services and delivering balanced budget after balanced budget.
Our Environment: She has worked to ensure that we maintain our environment for ourselves and for our future, preserving hundreds of acres of land from tax-negative development and ensuring that our drinking water and aquifer are protected.
Our Children: At the same time, she has worked to ensure that our children and young adults have the education and opportunity to make smart life choices and that they enjoy learning. She and the rest of the Board of Selectmen also found ways to lower the cost of a much-needed new elementary school so it was affordable to the residents.
Public Safety: She has lead the way in ensuring public safety by partnering with Emergency Management in disaster preparedness exercises and planning, and by co-authoring the Hazard Mitigation Plan required for state and federal emergency assistance. She has worked to connect our young people and their parents with our Police, Fire, and EMS departments both through her Story Hour at the Public Library and as former volunteer Board member, Interim Executive Director, and Executive Director of YPAC.
Her Technical Knowledge: She used her experience in land use, conservation, grant-writing, and research to spearhead the Town's first Master Plan in 21 years, to lead the team that brought the Town's Open Space and Recreation Plan up to date, and to co-author the Hazard Mitigation Plan.
More...
December 2016 to present: Board of Directors, South Shore Community Action Council, Appointed Carver/Plympton Selectmen's Representative
South Shore Community Action Council, Inc. (SSCAC) is a private not-for-profit organization that provides a range of critical services to low-income individuals and families on the South Shore of Massachusetts, and works to combat the causes of poverty in those communities.
SSCAC's service area spans over 70 communities and affects 27,763 individuals.
SSCAC runs many programs in the areas of Youth and Family Development, Income Maintenance, Nutrition, Emergency Assistance, Self-Sufficiency, Energy Assistance, Employment, and Transportation Assistance.
(—Above description taken from the SSCAC website.)
2012 to 2016: Young Peoples' Alliance of Carver, Inc. (YPAC), Founding Member
March 2016 to June 2016: Volunteer Executive Director, YPAC
July 2015 to March 2016: Interim Executive Director, YPAC
January 2013 to July 2015: Vice Chair and Program Director, YPAC, Board of Directors
YPAC is a non-profit after-school program for Carver's youth that involves the whole community.
YPAC's goal is to build a community network in Carver that will provide a safe haven with appropriate, monitored programs that will enable young people to reach their greatest potential.
YPAC means a reduced chance our children will make bad life choices; a reduced chance they will take unhealthy risks; a reduced chance for drugs or alcohol to end their childhoods.
YPAC runs supervised programs after school: homework/tutoring, physical activities/games, and special programs with an emphasis on industrial arts, technology, and life skills.
YPAC also partners with the Police Department with the "Young Police Explorers" program that lets kids and their parents get to know our police officers as trusted friends rather than only law enforcement.
YPAC also partners with the EMS department in a "Young EMS Explorers" program that works on life-saving skills like CPR and helps kids learn about emergency preparedness as well as the hazards of drug and substance abuse
1996 to present: Volunteer Reader, Tuesday Toddler Story Hour, Carver Public Library
This is a program for children, parents, grandparents, and caregivers from Carver as well as neighboring towns
Children get to know their library and develop a love for reading while preparing for school
Our fire station tours are not only fun; they teach the children about fire safety and not to be afraid of fire fighters
Our Town Hall trick-or-treat is not only fun, but parents and caregivers get to know their public servants and see them as people they can trust
1998 to present: Chair of committee that built Carver's first community playground
Lead the team that built the Town's first community playground and wrote the successful Community Preservation Fund grant to upgrade the playground in 2016
2009 to present: Carver Board of Selectman, member
Championed the new Elementary School project with other pro-education officials
Joined forces with other Selectmen to get 60% reimbursement from the state for building Carver's new Elementary School
Voted to use tax revenue from new solar projects to lower costs of new school for taxpayers
Succeeded in upgrading municipal water system for affordable housing complex
Spearheaded residential curbside trash/recycling pick-up at 50% off going price
Succeeded in lowering water rate for seniors in manufactured home community
Saved 34% on town street light bill by negotiating purchase (for $1) of street lights from NStar
Reduced town's energy bill by 11% by negotiating for 25% of Town's energy from solar power
1999 to 2014: Carver Conservation Agent
Helped to obtain over $4,000,000 in grants for Carver
Protected over 500 acres of land from tax-negative development
100% success rate in permitting development that also protects our resources
Supported Carver/Halifax Housing Rehabilitation Grant Program
Received award from the Cape Cod Cranberry Growers' Association, 2009. In presenting the award, CCCG President George Rogers said "Sarah Hewins expends positive energy promoting healthy conservation practices and environmentally sound decisions as it relates to clean water, wildlife and other areas pertinent to the cranberry industry; Sarah believes working together and keeping herself educated on environmental issues best serve our precious resources."
1998 to 2008: Carver Planning Board, member
100% success rate in permitting appropriate businesses to broaden our tax base
Spearheaded zoning requirements for affordable homes in every new development
Good planning / smart growth to preserve rural character
2006-2009: Served on Community Preservation Committee
Voted to fund renovations to our Council on Aging/Senior Center
Voted for CPA tax exemption for property owned and occupied as a home by a person who would qualify for low-income housing or low- or moderate-income senior housing
---